What is VelaShape?
VelaShape® is a non-invasive body contouring treatment for circumferential and cellulite reduction*. VelaShape enables you to safely achieve a toned, contoured and well shaped body in typcially 3 treatment sessions (single treatment protocol is also available); making you look and feel more youthful. VelaShape provides dramatic results without downtime or significant discomfort.
Which areas can be treated with VelaShape?
The Vela treatment can be applied to any body area that may need contouring: thighs, abdomen, arms, flanks and more. Wherever cellulite is bothersome for a patient, the Vela line of devices offers an effective solution to help solve the problem.
Is VelaShape treatment right for me?
VelaShape is not a weight loss treatment. VelaShape uses a combination of technologies to contour your body, reducing the trouble spots that diet and exercise can't reach. The ideal VelaShape patient is someone with a BMI (Body Mass Index) of less than 30, who falls under The Nurnberger-Muller Cellulite Classification Stage 1 and 2. Ask your doctor to see if you're a candidate for VelaShape treatments.
Call our office to schedule your free consultation today!
614-585-9900
How does VelaShape work?
The Vela Product line is the only non-invasive body shaping product to combine four different technologies including IR (infrared), Bi-Polar RF (radio-frequency) and mechanical tissue manipulation using pulsed vacuum and massage rollers. The combination of the IR and vacuum coupled RF technologies causes deep heating of the connective tissue including the fibrous septae which in turn promotes an increase in collagen depositing and local cellular metabolism resulting in a localized reduction in skin laxity and volume. The additional mechanical tissue manipulation of the Vela causes an immediate increase in circulation and lymphatic drainage, both essential components for healthy skin structure. More than 3.5 million independent treatments have been performed globally to date confirming both the safety and unique efficacy of this technology.
What are the key differences/advantages of VelaShape over competition?
The non-invasive Vela line is the only system to combine 4 technologies creating a synergistic effect when treating the appearance of the skin. The unique mechanism of action of this product line enables a very safe, comfortable and effective procedure which has been proven in numerous clinical trials and in over 3.5 Million independent treatments.
What do I expect from VelaShape treatments?
Gradual smoothing of skin's surface with a noticeable reduction in cellulite as well as circumferential reduction, with noticeable reshaping of the treated area.
What is the minimum or maximum age required to be eligible for treatment with VelaShape?
The Vela treatments are not limited by age and all patients seeking cellulite reduction and /or circumference reduction can be treated. However, the treating clinician will determine if the patient is a good candidate. In some countries, there are legal requirements for minimum age of treatment.
Are there any contraindications to a body contouring treatment with VelaShape?
There are no major contraindications for the Vela treatment. For patients with pacemakers/defibrillator, pregnant or nursing or severe health problems, it is recommended to defer to their physician prior to commencing treatment.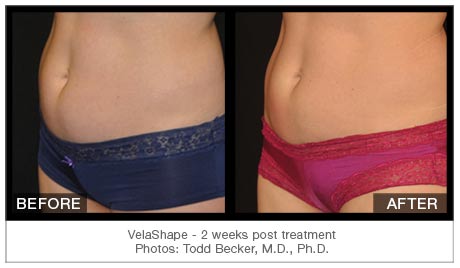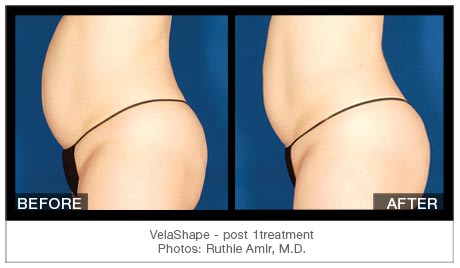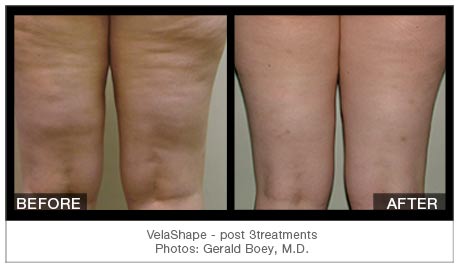 What is the VelaShape procedure like?
Most patients find VelaShape comfortable and describe the treatment as feeling like a warm deep-tissue massage. The treatment parameters are easily adjusted to ensure a comfortable treatment experience. It is normal to experience a warm sensation for a few hours after your treatment. Some patients report a pinkish appearance at the treatment area that may last a few hours post treatment, and skin may appear pink for several hours.
What is cellulite?
Cellulite is a structural skin change that occurs in most post-pubertal females whether they are thin or overweight. It presents itself as a modification of skin morphology evident by skin dimpling and nodularity that occurs mainly in women on the pelvic region, lower limbs, and abdomen, and is caused by the herniation of subcutaneous fat within fibrous connective tissue, leading to a padded or orange peel–like appearance. Cellulite can occur in women of all ages and tends to become more visible with age. Over time, the skin loses its thickness and thereby enhances the visibility of the unsightly cellulite bumps